Sir Shri Ashutosh Astrologer is one of the most famous astrologers near his acquaintances. He started his career nearly 40 years ago, and now he is very popular about his great prediction. If you are looking for best astrologer in Kolkata India hopefully you can trust us.
Sir Shree Ashutosh Basak already proud at various famous platforms for his good reputation as a genuine astrologer in Kolkata also India. Here we provide free online consultation about horoscope, love matching, astrological remedies and best way to solve your problems by best astrological methods.
Get astrological solution by WhatsApp Consultation with Sir Shree Ashutosh, and solve your life problems from your home.
 We provide most trusted and most low cost astrology services from 2019 which you can get from our website and mobile application. Please try it for free and encourage us to keep grow with your supports

Sir Shree Ashutosh Basak
Free Online Horoscope & all Astrology Reports of Indian Vedic (NC Lahiri) by Genuine Astrologer in Kolkata
Paid Online Astrologer Consulting Services by Indian Vedic (NC Lahiri) Methods
Full Horoscope Report
100/- Only
All Basic Details, Horoscope Charts, Planetary Details, Vimsottori Dasha, Char Dasha, Yogini Dasha, Kalsarpa Dasha, Sadesati Dasha, Mangolik Dasha, Pitro Dasha, Gemstones Remedies Suggestion, Rudraksha Remedies Suggestion, Sadesati Remedies Suggestion, Planet House Report, Planet Sign Report, Ascendant Report, Vinnastak Varga, Sarvastak Varga, PDF Downloading Option
Full Love Matching Report
50/- Only
All Basic Details, Ashtokoot Details, Dashakoot Details, Mangalik Report, Vedh Dasha, PDF Downloading Option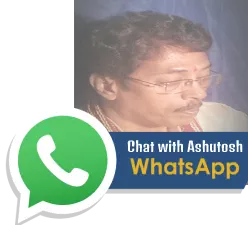 WhatsApp Consultation
300/- Only
Get all question answer according to your interest by giving your correct birth details
Mega Horoscope Report
Get Horoscope Mega Report 175+ Pages only @899/- to your Postal Address or @399/- by your WhatsApp No. in three Languages are available
Mega Marriage Matching Report
Get Marriage Matching Mega Report 25+ Pages only @299/- to your Postal Address or @199/- by your WhatsApp No. in three Languages are available